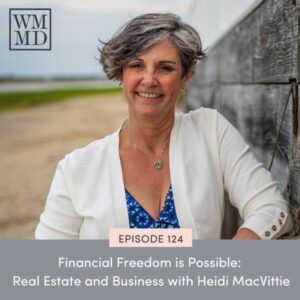 I share a lot about my own journey here on the podcast, but I've decided to start featuring some of my clients on the show because there are so many different ways you can apply what I teach here and in my programs. So today, I'm bringing you an interview with my client Heidi MacVittie, and she's a perfect example of the kind of strides you can make in a short amount of time when you start the work we do in Live Wealthy.
Heidi MacVittie has been inside my Live Wealthy program for the past two years. She's a board-certified OB/Gyn, but she's also a financial coach with a new business called Moola Masters, helping her clients create budgets and five-year financial plans. She has lived her life helping people and she's here to share her inspiring story, to help all of you listening.
Tune in this week to hear where Heidi started when she came to me for coaching, and where she is in her life now. She's talking us through her journey in real estate, how she fell in love with negotiating, and how working on these areas of her life has led her to living a confident, wealthy life.
Learn more about Live Wealthy, an exclusive coaching program designed for successful women who want to be confident.... and be rich.
What You'll Learn from this Episode:
How Heidi has made amazing progress investing in real estate in the past two years.
Where Heidi was struggling and what she wanted to change when she first came to me for coaching.
Heidi's experience of learning to invest and starting her own business.
Why Heidi never imagined she'd be investing in real estate or running her own business.
How a fortune cookie helped Heidi start her business.
What has changed in Heidi's life in the past two years since she started pursuing alternative income streams.
Why Heidi started questioning her perception of what's possible, and how you can do the same.
Listen to the Full Episode:
Featured on the Show:
Get started on your journey to wealth by getting the best selling book: Defining Wealth for Women.