<![CDATA[
Yes, that was a bit of a bait headline, but I couldn't help it. And yes, push presents are a thing. And it turns out that I got the best push present ever!
About a year ago, M asked me to marry him and promised to keep our net worth positive. At that time, I was dragging us down with my student loans.
Well, not anymore! M paid them off!
Yup, I no longer have student loans. Happy dance in order: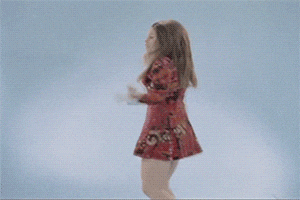 And, we are now officially DEBT FREE !!!!!!!!!!!! 
The Case to Wait to Pay Off Debt
I hear people say all the time that you don't "need" to pay off low interest debt quickly. I see their point and I wasn't planning on paying off these loans for another 3 years. Right out of residency, I favored maxing out my tax advantaged retirement accounts over making extra payments towards my student loans.
Why No Debt Is the Best Push Present Ever
Despite this argument, having no debt really feels fantastic. And it comes with some really significant perks too.
Being debt free means:
No extra monthly payments
A lower monthly operating budget
Any extra money we get goes to us, not debt
Final Thoughts on Being Debt Free
Existing loans and taking on new ones (mortgage, car loans, etc) give you the illusion that you can afford something you actually can't.
Like 0% interest car loans – trust me, they aren't doing that to be nice to you. They know you will buy a more expensive car on credit even if you aren't paying interest. After all, it's just another monthly payment, right?
Couples who pay off debt together stay together. Of course, not every couple might have the means or the desire to pay off debt in one fell swoop like this. The most important thing is to make sure that you're on the same page financially, or at least taking steps to get there. Having solid financial footing before bringing a baby into the world truly feels like the best push present.